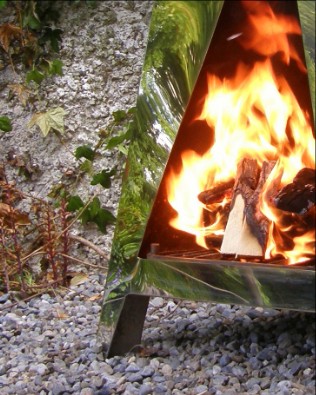 STAINLESS STEEL FIRE'NESS
€ 595.00
The Outdoor FIRE'NESS is Handmade in Marine Grade Stainless Steel with Mirror Front Finish & Sateen Side Panels with Lift Out Fire Grate for easy cleaning.
The FIRE'NESS stands 1 meter tall by 50cm at the base.

Your FIRE'NESS will not rust and only requires an occasional polish to keep the bright mirror finish!
Recommended fuel is Fire Logs or Stove Logs with Kiln dried kindling.

OUTDOOR USE ONLY! Each FIRE'NESS is made to order and at the moment is taking 2 - 3 weeks to supply with current orders.
Stylish outdoor warmth both Winter & Summer!

Launched February 2017 and shown at Allianz Garden Show Ireland, Bloom and Gifted Dublin 2017

Showing next at Bloom Dublin - June Bank Holiday weekend.